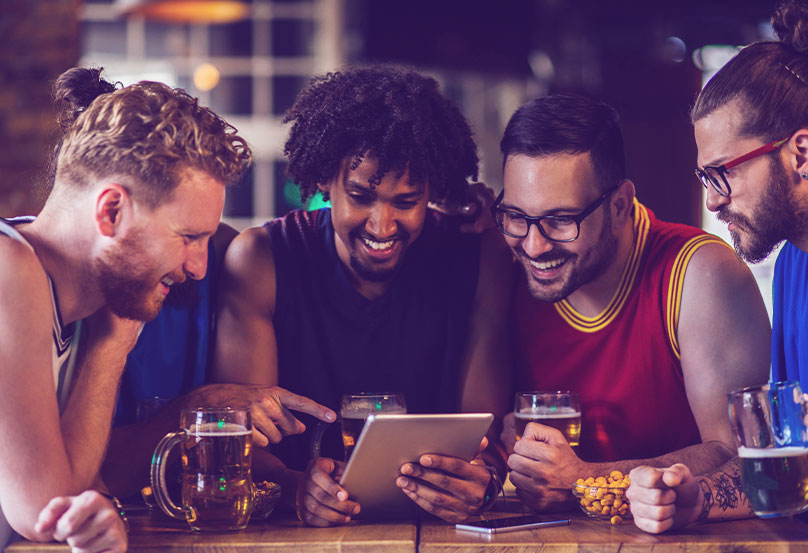 Our Company
Hi, we're Penn Entertainment.

We're here to help people find their fun.
We're reimagining the entertainment experience.
We live for fun… and we like to share it. From retail and online gaming to sports betting and lifestyle content, we've grown from our early days as a single racetrack operator to become the most innovative omni-channel provider of entertainment experiences in North America.
But beyond our 43 gaming destinations and a robust loyalty program that reaches over 26 million members, being an industry leader means more than being a purveyor of fun. We are also committed to values like diversity and sustainability — for our community, our team members, our vendors and our planet.
27M+
Loyalty program members
Our community is loyal to us and we're loyal to them, offering exclusive rewards and offers that keep our members happy.
50,000+
Gaming machines in North America
We have a large retail gaming, sports betting and racing footprint across North America. And it's growing every day.
50+
Years in the gaming industry
We've been at this a long time. But it's not just our experience that keeps people coming back — it's our commitment to innovation.
"Our success as a best-in-class omni-channel provider of retail and online gaming and sports betting entertainment will be a catalyst for our core land-based businesses, while also providing a platform for significant long-term shareholder value."
- Jay Snowden , CEO & President
Find Your Fun throughout North America.
Wherever you are, chances are PENN is close by. Whether you're looking for one of our 43 locations, trying to find our corporate offices or want to know where you can bet with our online sportsbook & casino — you'll find your answers here.
Gaming, betting and entertainment.
For all.
PENN Play
Our members can find their fun with PENN Play, the nation's premier casino loyalty program. With PENN Play, members can earn rewards at over 35 destinations — and online — and redeem them for gaming, dining, shopping, hotel stays and more. The PENN Play app gives them instant access to their exclusive offers.
Learn more
Penn Interactive
Our digital arm, Penn Interactive, creates Real Money gaming and free-to-play apps for our online gaming community. With ESPN BET in the U.S. and theScore Bet and Casino in Canada, we're poised for fast-paced growth in the sports betting and online casino space.
Our partners
We don't just work in entertainment. We participate in it, we innovate in it — and we team up with other industry leaders to help more people have fun.
The American Gaming Association created Have A Game Plan to teach the basics of responsible sports betting.

Learn more

We're proud to be a corporate sponsor of the All-in Diversity Project, an initiative that supports DE&I efforts — and recognizes those who have helped diverse professionals in their career development.

Learn More

Toronto Blue Jays fans will enjoy innovative new ways to experience and play games through our subsidiary, theScore, at Rogers Centre, with plans to create a flagship sports bar and restaurant at the ballpark.

Read More
Our awards
We've been increasing our efforts in the area of diversity and inclusion, and in recent years have been rewarded for our commitment.
Named an "America's Best Employer for Diversity 2023" by Forbes Magazine

Named on the inaugural list of Alliance for Global Inclusion Index Companies

Named a Certified Age Friendly Employer™ (CAFE) by Age-Friendly Institute

Named one of America's Greatest Workplaces by Newsweek magazine

Named an "America's Best Large Employer" by Forbes

Awarded "Champion of Board Diversity 2023" by The Forum of Executive Women
Catch up. Stay in the know. Read our news.
Read More
Find what you're looking for
Investors

Explore an investment in PENN Entertainment. Learn about the most up-to-date information available, our strategies, and recent performance.

Learn more

Careers

We're always looking for talent that believes in having — and sharing — fun. Discover what it's like to work at PENN Entertainment and search for your next opportunity.

Learn more